Samsara
Samsara is Asia Island Home's current development: 14 custom built luxury villas situated on a stunning headland to the north of Patong Bay offering million dollar views. We offer a choice of four standard designs which can be customised extensively with the project architects, Original Vision, alternatively you can chose to bring in your own architects.
Owners purchase the land from the developmer and then contract directly with the builder for the construction of their villa, their by getting their home at cost price.
The first phase comprising seven villas is almost complete, with four villas already in the hands of their owners.
Flash Presentations
We have two Flash presentaions as an introduction to our Project her of the pictures belwo to view the shows. Note: these will appear in pop-up windows.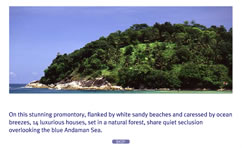 Main Presentation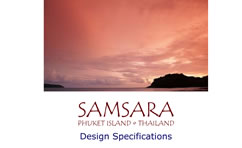 Design Specifications
Availability
Four plots remain available for sale, please contact us about prices.