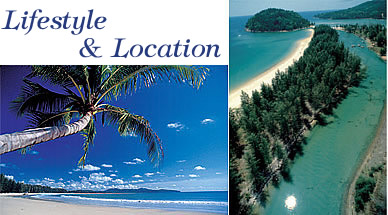 LAYAN: dreamy, refreshing, charming, exclusive. In fact, the new and highly desirable place to live in Phuket. Yet, so-cool Layan lies alongside the Hot Spot of Bangtao, the island's west coast luxury resort playground, with famed tropical style and stunning white beaches.
At Ocean Breeze Resort & Suites - secluded yet convenient - you can have the best of both worlds, enjoying the life you have dreamed of at a price you can afford.
The Andaman Sea is just two minutes' drive through the trees. Nearby are the Laguna 5-star resort complex and the Banyan Tree... a wealth of first class golf, shopping and international restaurants. The beautiful Sirinath National Park, boasting three superb beaches, is close at hand. Reaching your residence at Ocean Breeze couldn't be easier — the airport is just 15 minutes away.
From left: BANGTAO BAY Just 2 minutes from your doorstep; SIRINATH NATIONAL PARK; 90 HOLES! 5 Golf Courses within easy reach