The Garden News - January 2005
Welcome to the first edition of Garden News - our montly bulletin to keep you up to date with the development of Grove Gardens Phuket, and general island information.
Phuket Report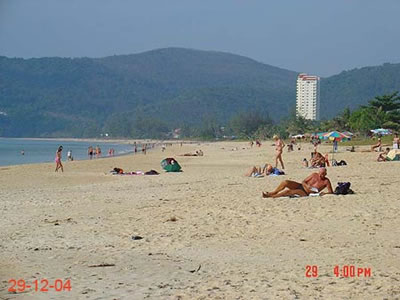 The island of Phuket is operating normally apart from the lack of guests. Unless you go to a few beachfront areas, you would not be aware that there had been anything unusual.
Urgently, though, the resorts need guests so that they can retain staff. In most cases, governments have lifted travel warnings on Phuket, and although the area of Khao Lak is closed, this area is over 100 klms north on the mainland. With most of the hotels on Phuket operating normally, the thousands of people out of work from other areas, could get work or part time work if the hotels were busy,
The beaches, such as Patong - pictured above taken on the 29 Decmebr 2004 - have been cleaned and once again are coming back to life, welcoming tourists, although it is critical that the international market understand that there is no good reason to avoid Phuket.
Many boats, charter yachts and diving trips are operating normally.
Jiva Resort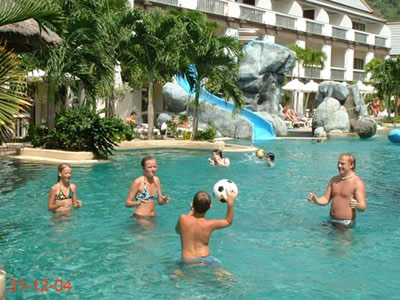 Jiva Resort and Spa at Kata is owned and operated by the developers of Grove Gardens.
Jiva Resort is 100% operational and did not suffer any damage from the tsunami and some excellent deals are available.
Jiva Resort and Spa is located in the tranquil heart of Kata Beach, Phuket. Set in its own tropical gardens, the phuket hotel boasts three magnificent pools and sundecks for soaking up the glorious sunshine over Phuket.
Our spacious family resort is functional and tastefully decorated in contemporary style, creating a relaxed atmosphere. The name of Jiva literally means "for a good life", with our ambience, warm and friendly service, we assure our guests a memorable stay!
We offer 128 large rooms, Phuket family suites and family apartments and we take pride into focusing on the smaller, as well as the larger family in every aspect, ensuring a memorable holiday in paradise. Let us make Jiva Resort your family resort holiday home!
The above photograph was taken at Jiva resort on 31 December 2004. Please visit the website www.jivaresort.com for more information
Grove Gardens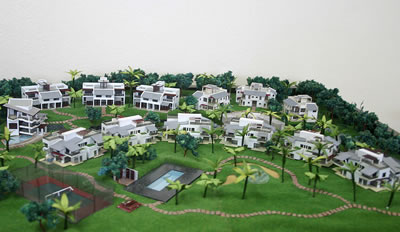 Construction work at Grove Gardens will commence at the end of this month. The site has now been cleared, as pictured at the top of this page. Due to the many distracting circumstances this month, the construction period will have a delay of approximately one month.
Sales are proceeding well with eight out of twelve two bedroom apartments sold, five out of twelve three bedroom apartments and four out of twelve four bedroom townhomes.
Grove Gardens is located on Cape Yamu, and now there are several more projects commencing on the Cape, including the luxury villas designed by the internationally famous Philip Stark and a new full service marina with direct access to the bay at all tides.