News - April 2005
Hong Kong Promotion
We will be joining a Phuket promotion early next month in Hong Kong. Grove Gardens will be on display in Hong Kong on Thursday May 5th at the Klong Bar and Grill, The Broadway 62 Lockhardt Road, Wanchai.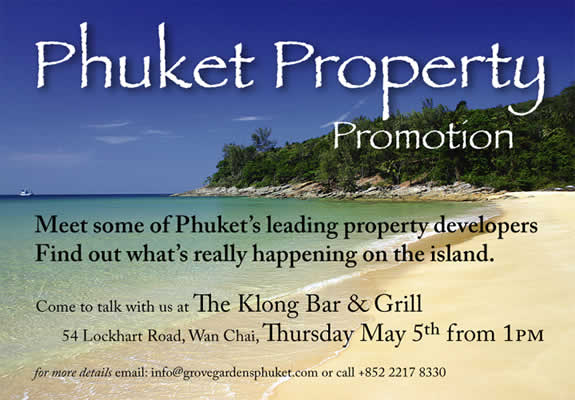 Along with a small number of other premier developments from Phuket, we are inviting anyone interested to visit us and have a look and a chat about Phuket from 1 pm to 6.30 pm.
Update
Phuket has received a few early electrical storms and a few good downpours here and there over the last two weeks so already we're seeing the dust settle and green grass popping up. The monsoon season is our favourite time of the year, when everything is green and lush and the afternoon rains cools down the heat of the day.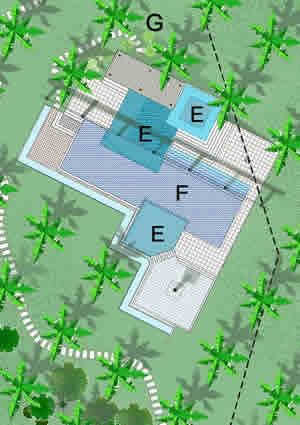 Construction for Grove Gardens is proceeding on schedule - the main swimming pool design (right) is now complete and will become a major feature of the project. It is designed to give everybody something, from a deep pool for initial scuba training, lap pool for the fitness minded and shallow fun play pools for the kids.
The piling is 90% complete for the whole project, and now digging is underway for the underground beams and footings. All superstructures should be finished to roof stage by the end of the year. Photographs of work in progress are available on our new Gallery page.
Best regards, Lars Ydmark, Graham Doven and the Grove Garden Team
Phuket Report
Phuket's tourist industry is rapidly picking up and the Easter holidays saw large numbers of families on the island. Lars Ydmark, Managing Director of Tri-Asia, owner and operator of Jiva Resort at Kata says there has been excellent response from the travel industry and it is expected that the situation should be back to normal by October. Also reported is lots of activity on the property front with strong enquiries reported by most developments over the past month.
The East Coast
Phuket's east coast is seeing lots of activity from land sales. The price of land is still reasonable compared to the longer established west coast. Some of the views on the east coast would have to among the best in the world. This along with the removal of import duties on yachts and boats followed by the announcement of several new marinas on the drawing board suggests that the marine industry will prove to be a major force in the development of the east coast.